Take your client relationships to the next level by becoming a go-to resource for your clients' most important checklist. Give your clients a valuable tool to organize and collect important information and communicate their end-of-life wishes.
With the MyFinalChecklist professional version, you can offer a comprehensive set of checklists and a professional planning system to help your clients get it together, and keep it together.
Request a Quote
Help your clients proceed confidently, step by step, through their end-of-life plan
Ensure all of the information your clients will need is organized and well-prepared
Increase your reputation as a trusted advisor
Keep your brand top-of-mind with a co-branded system
Step by step action plan
Don't recreate the wheel. The MyFinalChecklist planning system covers everything you need to walk your clients through every step of their end-of-life plan.
Single source of information
All contained within an attractive, durable, high-quality binder, your clients' information and wishes will be organized and stored all in one place--and easily found and updated as needed.
10 complete checklists
The planning system is organized into tabbed sections covering every end of life topic. You can rest assured all the details of their plan are covered.
Expert guidance and reminders
As part of the MyFinalChecklist planning system, you can sign up for email reminders and resources to be delivered to your email inbox (or directly to your clients) to assist them through the process and help keep them on track.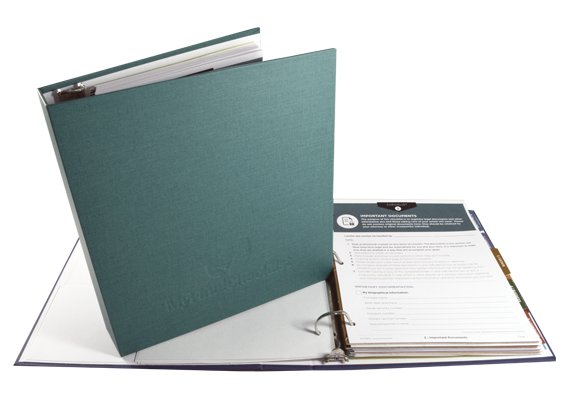 MyFinalChecklist End of Life Planning System Professional Edition
"We give a copy of MyFinalChecklist to every client and our clients love it. Not only does it accomplish our goal of organizing their documents in an easy, simple way, but it also adds value and "heart" to our client relationships. "