End-of-life planning isn't something most people want to talk about. Whether they feel they just don't need to worry about it yet, or that planning for end-of-life is too uncomfortable or upsetting, lack of planning is commonplace. A recent survey by The Conversation Project found that 90 percent of Americans believe it is important to discuss their wishes for end-of-life care, but less than 30 percent have actually had those types of discussions.
You are here because you're ready to start thinking about it. You're here because you recognize the stress and worry your death—whether expected or not—can have on loved ones left behind. You are ready to take a proactive role in your end-of-life planning process with the help of MyFinalChecklist.
Walk confidently, step by step, through your end-of-life plan
Ensure all of the information your loved ones will need is organized and well-prepared
Eliminate a key source of stress for those who will handle your affairs
Rest assured your wishes can be met
Step by step action plan
You don't have to be an expert. The MyFinalChecklist planning system will walk you through every step so you can confidently compile your information and wishes.
Single source of information
All contained within an attractive, durable, high-quality binder, your information and wishes will be organized and stored all in one place--and easily found and updated as needed.
10 complete checklists
The planning system is organized into tabbed sections covering every end of life topic. You can rest assured all the details of your plan are covered. Take it section by section to break the process up into "doable" chunks.
Expert guidance and reminders
As part of the MyFinalChecklist planning system, you can sign up for email reminders and resources to be delivered to your email inbox to assist you through the process and help keep you on track.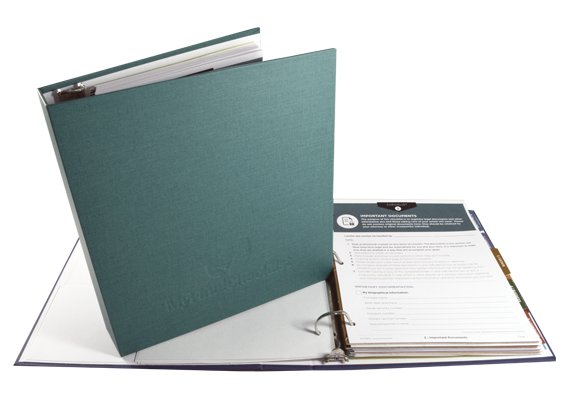 MyFinalChecklist End of Life Planning System
Just $140
Buy now
"If a loved one died and YOU would be the one to have to pick up the pieces, you'd need MyFinalChecklist! "